Hot-melt adhesive composition "NOVOPLAST"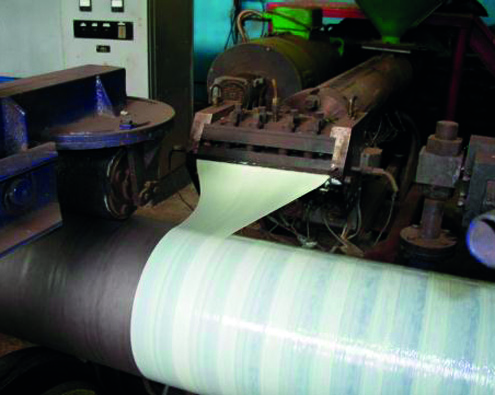 Hot-melt adhesive composition "NOVOPLAST"
"NOVOPLAST-2SL" composition is a granulated hot-melt polymer material obtained on the basis of co-polymers of ethylene and modifying additives. The composition is processed by extrusion method. It is used as an intermediate layer between the steel surface and polyethylene layer during pipes insulation used at construction of pipelines of underground and subsurface routing. When it is used in composition of coating for oil pipes, the recommended maximum diameter of pipes is 1020 mm. With the operating temperature plus 60 °С. In composition of coating for gas pipes the maximum diameter is 530 mm, with the operating temperature not more than plus 50 °С.
Основные свойства


Наименование показателя

Ед. изм.

Норма

Метод

испытания

Внешний вид, цвет

гранулы, всех оттенков

Размер гранул

мм

2-6

Показатель текучести расплава, при температуре

г/10 мин

3,0

ГОСТ 11645

Прочность при разрыве, не менее

МПа

6

ГОСТ 11262

Относительное удлинение при разрыве, не менее

%

400

ГОСТ 11262

Адгезия к стали не менее

при 20 °С

при 40 °С

при 60 °С

Н/см

70

30

30

ГОСТ 411-77

Массовая доля летучих веществ, не более

%

0,2

ГОСТ 26359

Температура плавления, не менее

°С

90

ISO 11359-3

Снижение адгезии к стали, после выдержки в воде в течение 1000 ч от исходной величины, не более

при 20 °С

при 40 °С

при 60 °С

%

30

33

33

ГОСТ 411-77

Площадь отслаивания покрытия при поляризации, не более, при температуре

20 °С

40 °С

60 °С

см2

4

8

15

GOST R 51164-98 (appendix C)

Brittleness temperature, not more

°С

-70

GOST 16783